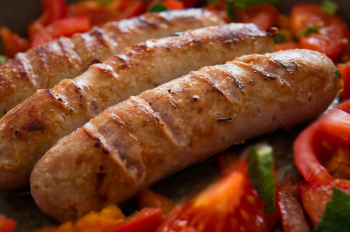 Throwing a classic barbeque this summer? Let us help you achieve the ultimate summer barbeque with University Meat's sausage range.
Choose from thick sausages to thin continental sausages and halal beef sausages that are downright delicious and perfect for entertaining.
Indulge in wagyu sausages, lamb honey and rosemary sausages, BBQ beef sausages and pork and fennel. Our sausages are traditionally made from minced pork with the mince contained and shaped into an edible casing.
Choose your desired flavours and convenient portion sizes of our meat range to best suit your day. Gather your friends and family for a great day of food, all from your kitchen. Pair our sausages with a fresh salad and your choice of bread and sauces for a versatile and flavoursome meal.
For a quick and easy meal, we recommend preparing our sausages on the BBQ on medium heat for 10 minutes or until they are browned.